Location, layout, interior, indulgence: the markers of luxury apartments
Natural stone or parquet flooring? A roof terrace or a garden? A cosy open fire or a 360° panoramic view? In terms of what constitutes a specifically luxury apartment, the following applies: De gustibus non est disputandum – 'There's no accounting for taste'; after all, what provides the greatest pleasure is, as we all know, a highly personal question. But the one thing that all luxury apartments have in common is the extraordinary lifestyle that they provide.
Bettina Schneuer 11. November 2021 · Updated: 7. November 2022 · Reading Time: 7 minutes
The term 'Luxus' (luxury), borrowed from Latin, has been an integral part of the German vocabulary since the 16th century. [1]. Literally translated, it can either mean 'splendour', 'extravagance' or 'abundance', but also 'waste' and 'debauchery'. [2]. This latter meaning is rarely used today, however, and over time the term has acquired a predominantly positive connotation – at least in German.
In the strictest sense of the word, a luxury may be considered an 'expenditure exceeding the normal standard of living', of a material or immaterial nature [3]. Although most definitions also emphasise the costs involved [4] – after all, affluence presupposes the corresponding means to acquire it – at the heart of the concept lies the fact that it is something extraordinary: a luxury is not a necessity, but an 'expense pursued only for pleasure' [5], characterised by the fact that it transcends everyday horizons.
What makes a luxury apartment?
For some, exquisite interior design is what gives an apartment that je ne sais quoi; for others, it is the location. And as different as ideas of what distinguishes a luxury property may be, it is precisely the individual standards and preferences of the owners that determine whether or not an apartment deserves the 'luxury' label.
However, luxury, which should be felt from the first moment and continue to define the sense of living in an apartment years after, is rarely determined by a single factor: if the interior fails to inspire, even the best location will not fix it – and vice versa. A luxury apartment truly worthy of the name must therefore express the highest quality both inside and out, from location to layout and furnishings.
1. An excellent location
Nothing determines living comfort quite as much as geography. A good location is mainly characterised by ready access to everything that residents particularly value in their everyday lives – something that is best achieved in the centre of large cities. However, this is precisely where living space is already at a premium. As such, particularly in cities, growing demand for residential property is being met with a dwindling supply. The real estate market in Berlin is the most competitive. Property website ImmoScout24 found a price increase of 2.5% for newbuilds and 3.3% for existing owner-occupied apartments in the capital in the first quarter of 2021 alone – and this trend is growing fast [6].
"In the luxury sector, supply is particularly exclusive, so buyers in cities like Berlin or Hamburg need a strong network to discover attractive offers in time," explains Tobias Kotzorek. As Head of Acquisition and Sales, he represents RALF SCHMITZ in Düsseldorf and Cologne. Thanks to active communication with his colleagues in Berlin and Hamburg, he is also familiar with supply and demand in other German cities and knows exactly what the capital's enormous competitive pressure is all about:
"Luxury apartments in Berlin are also very popular among prospective buyers from abroad. However, in many cases it's less about the specific location and more about living in a luxury property in Berlin. This is particularly evident when compared to cities such as Düsseldorf. The city itself is just as fashionable as Berlin, but the luxury real estate market is far newer. Be it on the Mannesmannufer in Carlstadt or in the Zooviertel, anyone looking for luxury apartments in Düsseldorf will find a wide range of high-quality properties in exclusive locations."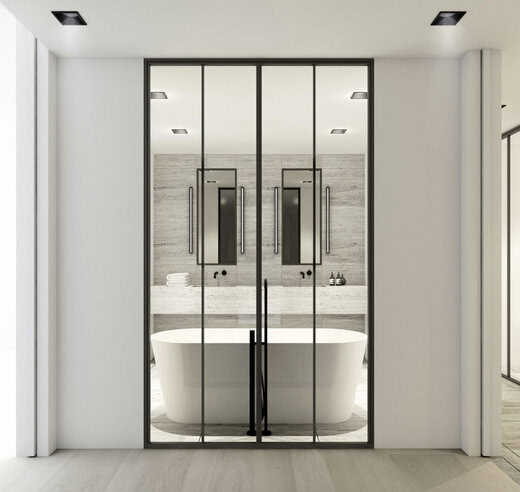 2. Sufficient area for free development
Closely intertwined with location is the amount of living space a property offers. Particularly in cities where building land is a rare commodity, a spacious floorplan, a balcony or a common garden shared by all building residents can also constitute a marker of genuine luxury for the location. However, the actual square meterage needed to qualify an apartment as 'luxury' depends strongly on how the standard is measured. Should it be compared with others or based on the buyers' personal standard of living? Objective or subjective?
In early 2021, the German Economic Institute determined a living space of 41 square metres per capita as the German average [7]. So, in purely objective terms, anything exceeding this median would be considered a luxury. But does 50 square metres per person necessarily feel like luxury housing? Not at all; the subjective sense of luxury only arises in contrast to one's own lived experience.
For example, someone looking to downsize from an all-too-large luxury property to an apartment in a prime location after the children have moved out may not even find a penthouse occupying the entire top floor of a building luxurious – at least not when it comes to living space alone. In this case, the apartment's location and particularly the furnishings become the decisive factors.
3. High-quality furnishings
The design freedom offered by an apartment depends not only on the layout of the rooms but also on the location of the apartment within the building; however, from the ground floor to the penthouse, the basic requirements for luxury living are always the same: spacious, light-flooded rooms with high ceilings. After all, this is the only way that an apartment can afford maximum freedom for individual interior design.
"Of course, what constitutes a luxury interior in concrete terms is also a matter of personal taste. What changes would you make within your own four walls to make every day feel special? For some, it's a natural stone bath; for others, it's smart home technology that lets you quickly close the windows with a tap on your phone on the way to work." As an architect and project developer, Jan Lorenz works closely with RALF SCHMITZ's clients to transform personal desires and ideas into luxury apartments. What does he place the greatest value on? Timeless luxury. "Of course, at some point you get used to all-round exquisite furnishings, but in no way does that mean they become less luxurious as a result. Luxury merely acquires a more subtle form and transforms the apartment into a haven where our clients can feel unreservedly at ease."
Easy luxury: sound foundations and excellent service
As varied as location and furnishings may be, luxury housing is primarily characterised by the lifestyle that goes with it. And that begins in the planning phase, with a sound structure that will provide its owners with many decades of comfortable, carefree living – and with excellent service.
"As a property developer, RALF SCHMITZ is synonymous with exceptional real estate and for ensuring that everything runs smoothly from the project planning phase to the handover of the keys," explains Friederike von Greve. "This easy luxury is particularly important to us: only when the service is right, when our customers feel truly and completely looked after, can they properly enjoy their new apartment. And what is luxury if not enjoyment?" Friederike von Greve works for RALF SCHMITZ as Head of Marketing and Corporate Communications. From countless conversations with interested parties and customers, she knows how important it is, particularly in the luxury sector, to do more than just move with the times.
"This individuality is also why, although RALF SCHMITZ can draw on more than 150 years of experience in the real estate industry, we are never complacent," she explains. "From luxury villas to luxury apartments in Hamburg, Berlin or Düsseldorf, we aspire to provide our clients with a comfortable living standard precisely tailored to their wishes and requirements. Our extensive market and target group analyses help us discover what is essential for contemporary luxury. What constitutes individual enjoyment and pleasure, however, is something our customers themselves know best. That's why intensive personal discussions have always been part of our service, from the planning phase to the handover of the keys."
Anyone buying a luxury apartment from RALF SCHMITZ not only receives a turnkey residence of the highest class, but also the freedom to savour the advantages of the property in their own way.
After all, only when quality meets individuality does a residential unit furnished to exceptionally high standards and situated in an exclusive location become a true luxury apartment.