Buying luxury real estate: Things to Know Before Buying a Luxury Property
Classic architecture, exquisite interior design and a sought-after location – luxury apartments and townhouses feature an impressive, all-round harmonious look and feel. However, the purchase of a luxury property requires thorough planning; after all, those who know what to look for when choosing the right property enjoy twice the luxury: Not only do they benefit from the exceptional living comfort of their new home, they can also rely on the certainty of having invested in a property that will reliably increase in value in the years and decades to come.
Bettina Schneuer 28. July 2022 · Updated: 19. November 2023 · Reading Time: 11 Minuten
The purchase of a luxury property requires thorough planning; after all, those who know what to look for when choosing the right property enjoy twice the luxury: Not only do they benefit from the exceptional living comfort of their new home, they can also rely on the certainty of having invested in a property that will reliably increase in value in the years and decades to come.
What is a luxury property? A definitional approach to an extraordinary lifestyle
Translated from Latin, luxury means "abundance".[1] However, although the luxurious – at least in today's parlance – is surrounded by a certain aura of extravagance, the strict sense of the word is far less so: every "expenditure [exceeding] the normal standard of living"[2] is luxurious in its own way. Nevertheless, what is considered far enough beyond the ordinary to merit this designation is an exceedingly subjective question.
For this reason, it is also difficult to assign a definition to luxury real estate that does justice to both the properties and the individual lifestyles of their residents – what one person classes as luxury may be the very least for another. However, all luxury properties do have one element in common: the extraordinary lifestyle that permeates all facets of the living ambience, from the floor plan to the interior design.
Space for individual lifestyles: the floor plan and the garden of a luxury property
Luxury properties are characterised by the fact that they offer their residents space for unimpeded self-fulfilment. Even in the desirable districts of large metropolises where building land is an extremely scarce resource, luxury residential units are always generously proportioned and usually also feature spacious outdoor areas.
"The luxury of a spacious floor plan is the surety that within these four walls, your individual lifestyle can flourish without you having to make any compromises," says Friederike von Greve. As Head of Marketing and Corporate Communications at RALF SCHMITZ, she knows exactly how important the fit between a property and the individual demands of its residents is for a luxurious lifestyle.
"A couple that want to downsize and participate more intensively again in the society in which they live after the children have moved out may find a luxury apartment in a vibrant neighbourhood perfect for this new stage of their life – but for a young couple with two small children, the same flat would simply be too cramped to feel truly luxurious. For this family, true luxury is more likely to begin with a townhouse with a garden and a pool, when everyone can find their own private retreat within a two hundred and fifty square metre area. There may even be space in the basement for a personal living suite for an au pair."
The subtle luxury of the harmonious look and feel: the architecture and the furnishings
A luxury property does not simply combine form and function. With the classic elegance of its architecture, the generously proportioned, light-flooded rooms create the setting for an extraordinary ambience. While every luxury property has an inherent prestigious character, what really matters is the residents' attitude to life – and that begins long before the front door opens.
"Luxury means not just having individual exquisite elements, but going one step further and formulating a holistic concept that creates a real living experience," explains architect and project developer Jan Lorenz. When working with RALF SCHMITZ's clients to design individual living concepts, he places great value on personal agreements – and on an all-round harmonious overall look and feel.
"The promises the façade makes must be kept by the interior design and perfected by the garden design , because only when all these areas mesh harmoniously, when even everyday activities such as parking in the underground garage or walking through the stairwell feel extraordinary, only then does a high-end residential unit become a true luxury property."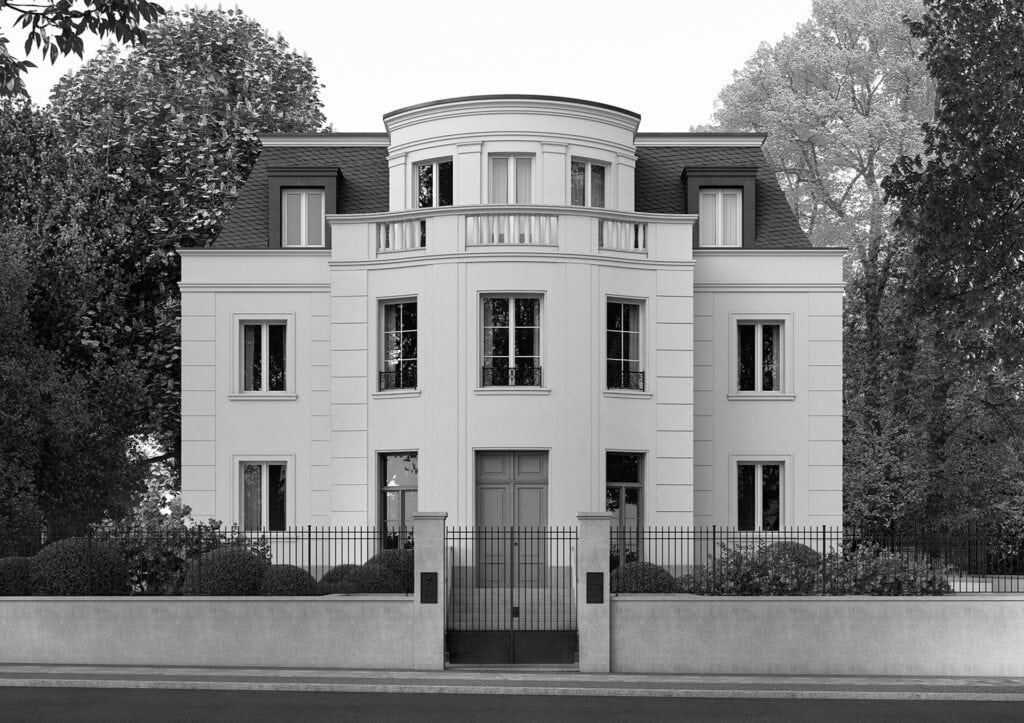 Exclusive locations and contemporary luxury: the three most popular property types at a glance
From castles and palaces to exclusive city apartments and holiday homes in exclusive locations, the selection of luxury real estate encompasses a wide range of different properties. However, although the charm of prestigious chalets and country houses remains undisputed, Liegenschaften and apartments in urban locations are proving to be the most sought-after luxury properties of our time.
"People have always been drawn to the city, to places where culture, comfort and a love of life are always within reach. And for precisely this reason, luxury properties in the heart of large cities have always been the most popular," says Tobias Kotzorek. As Head of Acquisition and Sales, he represents RALF SCHMITZ in Düsseldorf and Cologne. In doing so, he has been observing for many years how scarce supply is meeting growing demand in the real estate market of the large German metropolises. "From the villas in Berlin-Grunewald to the penthouses in Oberkassel: the greatest luxury of our time is the combination of an extraordinary property with a location that allows the owners to enjoy life without any limitations."
Three property types in particular are characteristic of modern urban luxury: exclusive apartments, penthouses and townhouses.
Exclusive apartments
Perhaps the greatest advantage of a luxury-apartments is that it is more than just an exquisite primary residence for its owners. A high-quality furnished apartment in a prime location can also be used as a weekend or holiday home, and it is a good investment for parents who want to offer their children financial support without loss of value by rebequeathing them a property. Furthermore, apartment buildings in large metropolises usually provide their residents with precisely the luxury that other properties in the same location lack: space for everything that makes everyday life more relaxed. Whether it's a shared garden in the backyard, underground parking or an in-house gym and spa – the luxury of these high-end apartments encompasses far more than just the floor space of the individual residential units.
Penthouses
is the most exclusive residential unit in a luxury apartment building. It usually occupies the entire top floor therefore giving it a significantly larger floor plan than the units below. However, in contrast to a classic attic apartment, the penthouse is designed as a recessed storey: a residential unit on the flat roof of the building that is set back from the edge.
The characteristic luxury of a penthouse flat is achieved by the combination of an exclusive residential unit with an extremely private location. Surrounded by an extensive roof terrace and protected from prying eyes, penthouse residents fully enjoy both the panoramic view and the infrastructure of an excellent location.
Villa and townhouses
A villa is always a luxurious, detached family home with a garden. Characteristic of villas – aside from their exclusive location and upscale furnishings – is the division of the interior into public areas, where guests are received, and the clearly separate private rooms belonging to the residents.
An urban version of this type of property is the townhouse. It obeys the same structure, but due to the more compact building plots in popular urban locations, it is usually somewhat closer to neighbouring buildings. Consequently, the exterior of a townhouse is typically divided into two: at the front of the house, a small garden gives the façade a green trim while the actual garden is largely or even completely hidden behind the building.
What should you consider when buying a luxury property?
"Basically, the purchase of a luxury property always follows one and the same pattern," explains Tobias Kotzorek. "Firstly, the potential buyers contact a provider – be it an estate agent
or a project developer like RALF SCHMITZ – to get an overview of what is on offer at their desired location. If one of these properties appeals to them, they can familiarise themselves with it and look into their options for customising it as part of a non-binding product presentation."
But is buying a luxury property really the right thing to do? This question is as subjective as it is complex; however, the answer falls mostly in favour of luxury real estate. Financial advantages, individual life planning, plus the security that comes with an investment of stable value that will benefit not only its owners but also future generations, all speak for themselves.
But why not rent?
A high-end property in a prime location is an investment that pays off – and not just for the buyers, who are considering using the luxury residential unit themselves. Although at first glance it may seem cheaper to rent a comparable property instead of buying it yourself, in the long run buying always proves to be the better decision. It protects against rising rents and, on top of that, allows owners to generate returns by renting out or selling their luxury property.
Furthermore, it proves to be much easier to raise outside capital for a real estate investment than for the purchase of other investment goods. "If you tie up part of your assets by buying a luxury apartment or a townhouse, you can sell this investment on at any time. In discussions with credit institutions, making the point of investment security is a winning argument," adds Jan Lorenz.
"However, beyond these purely financial advantages, it is usually the owner's life planning that proves decisive when it comes to buying a luxury property. What distinguishes home ownership from rental properties is above all the sense of freedom. Anyone buying a luxury apartment or townhouse knows precisely that they can live their life just the way they want to. Buying a property opens up enormous creative freedom, which owners in the luxury segment can get the most out of thanks to the generous floor plans – they may choose to install a wood-burning stove, a home spa, a private library or simply embellish the charm of an old building."
What makes luxury real estate a safe investment for the future?
Compared to other financial investments, exclusive real estate has always proven to be particularly stable in value. This is mainly due to the fact that the demand for luxury real estate in prime locations is constantly increasing; after all, in this globalised world, prospective buyers at home are also increasingly competing with buyers from abroad.
"As supply is particularly scarce in the big cities, the prices for real estate in the fashionable districts of major German metropolises such as Berlin, Munich, Düsseldorf and Cologne continue to rise consistently," says Tobias Kotzorek. "Every year of owner-occupancy gives them, the owners, double profit. Firstly, they benefit from the exquisite furnishings and the excellent infrastructure in the vicinity of their luxury apartment or townhouse, and secondly, they can be confident that their investment will consistently increase in value in the meantime."
Furthermore, luxury properties also offer reliable protection against loss of value due to their high-quality workmanship. A substantial structure prevents renovation expenses and, thanks to their classic design, these residential units do not lose their appeal to potential tenants or buyers over time. Unlike fast-moving design trends, the subtle charm of genuine luxury never goes out of fashion.
"Incidentally, in terms of stable value, new modern buildings prove to be particularly advantageous in two respects," notes Friederike von Greve. "Anyone who buys a ready-to-occupy luxury apartment or has a townhouse developed according to their personal requirements can rely on the fact that there will be nothing to complain about in this property for the foreseeable future. There is nothing outdated that will need to be renovated, and as everything has been designed according to the owners' taste, no renovation for purely aesthetic reasons will be necessary for the time being. On top of that, new buildings also meet all the current energy efficiency requirements of a residential property. This means that the owners will not have to retrofit anything in this respect either and there will be no risk of the property turning out to be a cost trap after purchase."
A question of quality and a question of trust
For many buyers, a luxury property is far more than just a high-end investment: as the epitome of a secure, self-determined future, it becomes the focal point of a brand-new stage of life. For this reason, the purchase of a luxury property always requires a great deal of trust to be placed in the competence and, not least, the integrity of the project developer, particularly if the buyers invest in a property that is still in the development phase.
For all real estate purchases within Germany, the Real Estate Agent and Property Developer Ordinance (Makler- und Bauträgerverordnung; MaBV for short) initially offers comprehensive buyer protection. For example, it stipulates that real estate agents and property developers must prove both financial stability and personal suitability to be allowed to operate in Germany. Furthermore, the MaBV also stipulates that property developers are always liable with their own assets for the implementation of their projects: this ensures that buyers cannot lose their investment sum.
"In fact, the only risk involved in the purchase of a luxury property that the law cannot prevent from the outset concerns the implementation. For example, if the ready-to-occupy property does not precisely align with the design concept that the buyers paid for," explains Jan Lorenz. To safeguard themselves against unpleasant surprises, he advises prospective buyers to look not only at the offer they are interested in, but also at the entire portfolio of their preferred provider in the run-up to making the purchase decision. "Of course, an undeveloped plot won't reveal much about the quality of the property that is to be built here, but completed projects speak volumes.
"Incidentally, the construction reliability that can be seen in the history of an established provider is also one of the most important reasons why so many customers put their trust in experienced property developers like RALF SCHMITZ when buying a luxury property. Many years of cooperation with renowned specialist companies and, in particular, the fact that RALF SCHMITZ vouches for the quality of every project not only with its own assets but also with its reputation, create the basis for a strong relationship of trust between the developer and the buyer.