Buying property from a developer: An appraisal
Whether it's their own home or an investment property, a detached house or an apartment, more and more owners in Germany are entrusting their construction to an experienced property developer. But what does this decision really mean? What makes working with a property developer special?
Jan Lorenz 23. June 2021 · Updated: 26. August 2021 · Reading Time: 5 minutes
There's some disagreement, even among experienced investors and long-time property owners, about what distinguishes property developers from other businesses in the real estate industry – and for good reason: for a long time in Germany, there was no legal definition [1], of the term 'property developer'. Only in recent years have property developer contracts themselves been regulated in the German Civil Code. Since it's not a protected profession, but rather a business model, property developers can focus on different properties, locations and target groups. For example, one company may specialise in commercial real estate, while another property developer could be building luxury flats in Berlin.
What they all have in common, however, is the legal framework for their activities – and the resulting benefits for their clients.
What is A property developer?
According to Section 34c of the Trade Regulation Act, both individuals and companies may act as developers if they operate "as builder[s] in their own name for their own […] account" [2].
In practice, this means that they act as so-called trader-developers: they find and acquire land in attractive locations, on which they develop residential and commercial properties – but without the intention of holding and renting them out as long-term investments.
What distinguishes property developers from other project developers is the fact that they build or refurbish residential or commercial units in their own name and at their own financial risk, but then resell them to end buyers or investors. Since the buyers always purchase a share of the land on which the property stands, a property developer contract includes elements of both the purchase contract for the land and the work and services contract for the development of the property. This differs from pure work and services contracts (as would be drawn up by a general contractor, who always works on third-party land); therefore, a notarial deed must also be executed for a property developer contract.
Who can become a property develpoper?
The proper handling of other people's assets demands a high degree of reliability and trustworthiness. Therefore, to exclude dubious offers from the outset, property developers – and indeed building supervisors and estate agents – require a special business licence to operate in Germany. To obtain this, a prospective property developer must provide proof of expertise as well as their own personal suitability and financial stability.
To this end, the relevant chamber of industry and commerce first checks police clearance certificates submitted by all decision-makers from management and the board of directors, and then ensures that neither the company nor the individual persons are in debt or involved in insolvency proceedings [3]. Only when these criteria have been established may an individual or a company call themselves a property developer.
What are the advantages of buying property from a developer?
The RALF SCHMITZ client services team in Berlin and Düsseldorf supports the new owners of their luxury properties from planning phase to handover and beyond. They know exactly what matters to them: "Decisive factors in buying from a developer are quality and comfort – not only with regard to the property itself, but also the service that the company offers its clients."
As well as benefiting from partnerships with skilled tradespeople, customers who buy from experienced property developers also have three major advantages: an unlimited warranty on the entire property, reliable buyer protection and exclusive plots in the best locations.
1. Five-year warranty on the entire property
Regardless of whether you act as the builder yourself or buy the finished property from a developer, a five-year limitation period for defect liability ("warranty period") applies for buildings in Germany [4]. However, in the case of self-organised construction without a general contractor, this limitation period does not begin with the handover of the ready-to-occupy residential unit, but for each project upon acceptance of the respective deliverable. Consequently, part of the warranty will have expired by the time you move in, and the risk of construction defects being discovered late increases.
Another complicating factor is that, when individual projects are commissioned separately, each tradesperson is only liable for their own work. This can make it difficult for private builders to enforce recourse claims as it is not always possible to clearly determine whose work a defect is attributable to in specific individual cases.
For clients of a property developer, dealing with these conflicting interests is much easier. Since they only sign the developer's contract instead of multiple separate contracts for work and services, they receive a five-year warranty starting from the handover of the ready-to-occupy residential unit and can rely on their developer in case of any damage.
"We see ourselves first and foremost as representatives of our clients' interests," explains Dr. Axel Martin Schmitz, Managing Partner at RALF SCHMITZ. "We've always taken this responsibility very seriously when it comes to rectifying any defects. RALF SCHMITZ stands for exceptional living comfort, which means that the question of who assumes the warranty for any damage is not something the buyer should have to deal with."
2. Excellent buyer protection thanks to the Real Estate Agent and Property Developer Ordinance and the German Civil Code (BGB)
Since proof of personal reliability and sound financial circumstances only has to be provided once, buying from a property developer is supported by the German Real Estate Agent and Property Developer Ordinance (Makler- und Bauträgerverordnung – MaBV). It offers clients of property developers comprehensive creditor protection and transparent payment terms..
The MaBV focuses on protecting the buyer's investment sum via a down payment by the developer. If the property has already been completely refurbished or constructed at the time the contract is signed, the buyer immediately receives an equivalent amount. If, however, a client invests in a project that is still in development or construction, the developer is legally obliged to either issue a guarantee for the purchase price (if they accept it in full), or to advance and demand payment for individual completed services on a pro rata basis in each case.
The down payment made by the developer is the general rule and a strict payment plan is an integral part of the developer contract. This stipulates that the developer is only remunerated for services rendered. The individual instalments are precisely defined – up to seven are legally permissible – and the developer is legally bound to adhere to this law. The buyer's protection is further strengthened by the fact that the developer may not demand the last instalment – usually 3.5 % – when the buyer moves into the property, but only when everything is "fully completed".
A further safeguard for the buyer is consumer security according to § 632a BGB "Part Payments" [5]. This means that the developer must grant a private home buyer, for example, 5% of the payment as consumer security parallel to the first receipt of payment. This is usually done by handing over or depositing a bank guarantee for the corresponding amount. The buyer only has to return this security on "full completion", ensuring that they always have a comfortable security until the very end – and well beyond the completion date.
3. Exclusive properties in sought-after locations
An experienced developer is firmly rooted in the regions in which they specialise. Not only does this allow them to rely on a strong network of partner companies for the high-quality construction of each building, it also opens up completely new perspectives in terms of location choice.
The more sought-after the location, the more difficult it is for private developers to secure the desired building plot, especially if the end goal is an apartment in an urban area. For example, to build an apartment building with eight flats in Düsseldorf without a developer – ideally in a central location with a view of the Rhine – you would need eight parties who not only have the financial means for such a project, but can also imagine living alongside each other as a community.
"By the time this type of collective has been created, a competing offer has often already won the bid. As property developers, we can react much more quickly to the market and secure exclusive properties for our buyers that would be difficult for private developers to access," says Dr. Axel Martin Schmitz. "Of course, there's also the advantage that RALF SCHMITZ is now in its fifth generation as a property developer in Hamburg, Berlin and Düsseldorf: all the projects that we've already successfully completed attest to our reliability – and that can be a decisive factor in negotiations."
Many are stubborn in pursuit of the path they have chosen, few in pursuit of the goal.

Friedrich NietZsche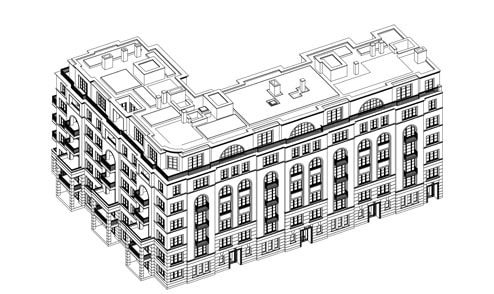 Quality without compromise – What buyers should be aware of
Despite all the advantages of working with a developer, there is one aspect of the developer contract that buyers should always approach with caution and that is the description of the services detailed in the building specification to be provided by the developer. The more detailed the building specification is in terms of how the property is to be designed, the easier it is for buyers to identify discrepancies and defects. If, however, the services are only vaguely outlined, the contract opens up creative leeway that can greatly change not only the appearance but also the functionality of the rooms.
"For example, if the building specification says 'architect's choice of parquet flooring, this can be interpreted with different colours and installation techniques, and also different thicknesses of wear layers," explains Dr. Axel Martin Schmitz. "However, parquet flooring with a thin wear layer can't be sanded as often as a higher-quality, thicker parquet, and that reduces the lifespan of the floor."
As long as the implementation is within the scope of the building specification, the buyer cannot, in this instance, assert any claims for defects. In order to protect all parties from any unpleasant surprises in this regard, it is essential to set out binding performance specifications when drafting the developer contract.
"The level of detail in RALF SCHMITZ's building specifications is a unique selling point within the industry," says Tobias Kotzorek, head Sales and Aquisitions at RALF SCHMITZ for Düsseldorf and Köln. "It's important to us that our customers get the exact property they chose, and that's why we take the greatest care to record all agreements regarding the design of the living space in precisely worded contracts."
After all, clear contractual obligations not only provide security, but also the confidence, as a client, that your individual wishes will be correctly and professionally implemented, as well as trust in a property developer for whom their clients' wishes are always top priority.
The contents is provided to the best of our knowledge, but without guarantee for completeness, timeliness and accuracy.