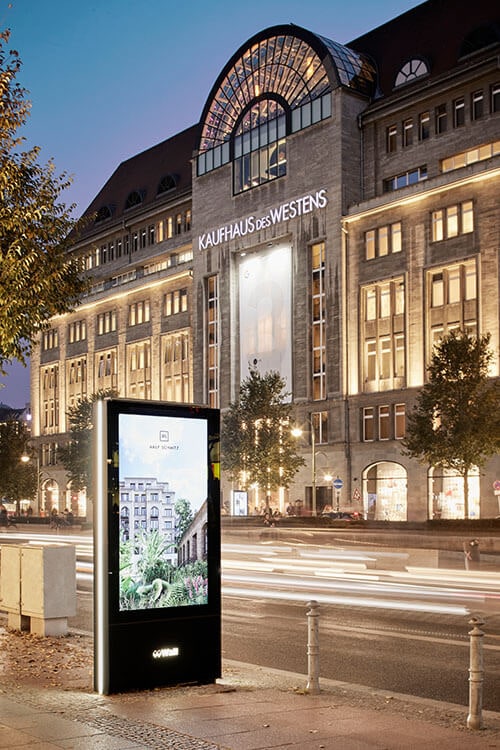 Digital billboard in front of the Berlin KaDeWe
In 1920, both Wilmersdorf and Charlottenburg became part of the city of Berlin. The new west of the city with its illustrious residents and its large boulevards for strolling and people-watching swiftly became a destination for urban culture. In the Golden Twenties, many exclusive hotels, legendary bars and restaurants, cinemas, cabarets and boutiques opened there.
The Kurfürstendamm became a rival to the older splendor of Unter den Linden and a symbol of the era. People went out and amused themselves at the Cafe des Westens (known as Café Kranzler after 1932), the Lunapark or the Kakadu Bar. And throughout the district, people lived beautifully in elegant Wilhelmine buildings with high ceilings and generously portioned apartments behind gleaming Jugendstil façades.
After the war, large parts of the historical architecture were rebuilt and restored with great effort and expense. Wilmersdorf quickly regained its old flair and became one of the most beloved living areas in Berlin. To this day, it is defined by its subtle and effortless combination of luxury and high culture.
Art and entertainment are on offer at the Schaubühne on Lehniner Platz, the Haus der Berliner Festspiele or the legendary Bar Jeder Vernunft, to name just a few of the many cultural institutions in Wilmersdorf.
In the 1970's, the district embarked on the transformation of its many little squares into oases of calm in what was then the city center. These squares are still beloved and popular today, perfect for strolling, window shopping or wiling time away in a café, a busy traditional Kneipe or fine dining establishment. In the northeast of Wilmersdorf, this eclectic mix can be seen on Fasanenplatz, Henriettenplatz, Prager Platz or even the elegantly landscaped borders of Ludwigkirchplatz with its sparkling fountain in front of the beautiful parish Church of Saint Ludwig. Nestled between Emser Strasse and Pfalzburger Strasse, this jewel has become one of the most coveted areas to live in in the entire city. Whoever manages to snag an apartment there will never move away again.
And if you're on the hunt for pure luxury, you will find it in and around the Ku'Damm, as it's colloquially known. All of the world's most famous luxury brands have a retail store there. Attractive luxury apartments nearby make sure that desirable clients are always in residence.
An example of this is RALF SCHMITZ's Eisenzahn 1 development that was constructed in partnership with Sebastian Treese's architectural firm. "The perhaps most beautiful new building in Berlin" was Die Welt's observation of the property after its completion in 2016 — and that in the perhaps most beautiful district of Berlin.
View into the Eisenzahnstrasse