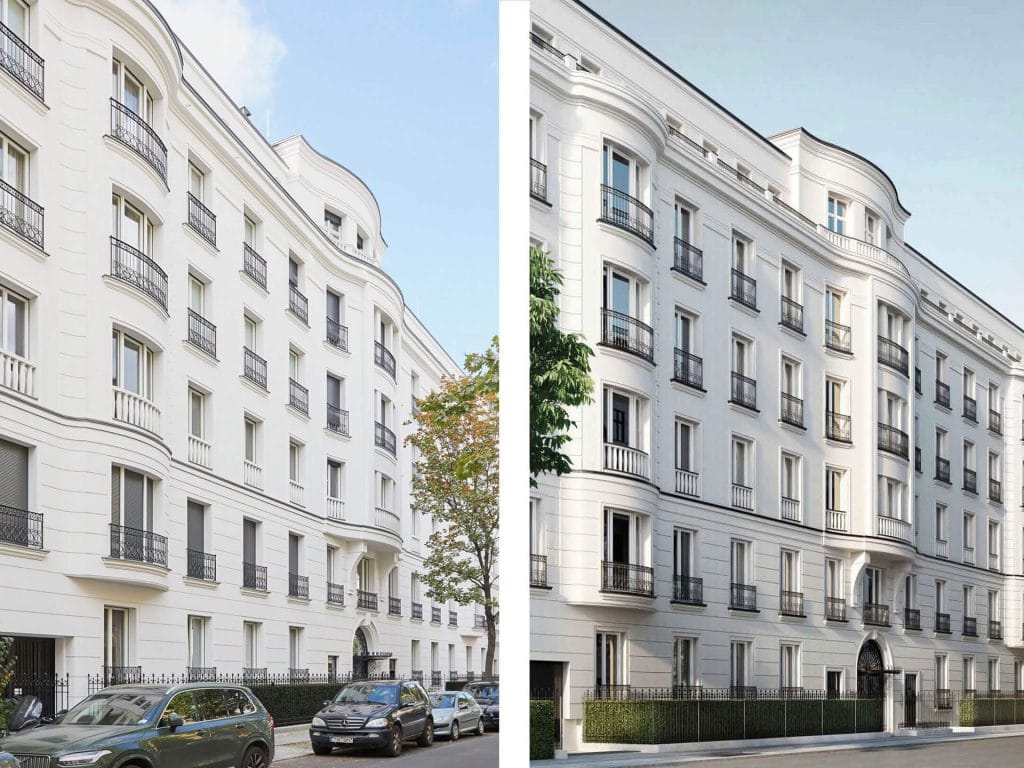 Spot the difference: only the clouds in the sky and the parked cars outside our luxury EISENZAHN 1 apartment building distinguish rendering (right) from reality
The tradition of captivating architectural visualisations dates back to the late baroque, when technical drawings of exceptional artistic quality – such as those by Piranesi – were seen for the first time. But what of today's architectural illusions? As with technical drawings or sketches, their primary purpose is to model the author's plans and to thus serve as a form of customer guarantee – a guarantee that buyers know, long before completion, what they are getting, i.e. what their building will look like.
Be they of our prestigious Eisenzahn 1 apartment building in the desirable heart of Charlottenburg or our charming townhouses in the historic centre of Kempen, accomplished renderings of RALF SCHMITZ projects allow would-be owners to picture themselves in the visualised scene.
They also faithfully convey the signature style and formal language of the architect and developer and, with their exceptional quality, reflect the standards buyers can expect from the finished property. What's more, they enable certain aspects of the design to be highlighted in a naturalistic fashion, meaning perspectives, layouts and the integration within the surroundings can be checked again and again and improved where necessary. As for that guarantee: if reality turns out to mirror the rendering, then the developer has surely delivered exactly what they promised. Judge for yourself.

Both the naturalistic rendering and the actual streetscape show how our Peterstrasse development in old Kempen seamlessly blends the historic and the new